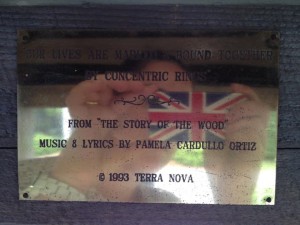 Next to playing live music with other musicians, there is nothing that thrills a songwriter's heart more than knowing you have reached your audience.  One of my songs that has had the farthest reach over the years has been The Story of the Wood.  Written for my husband, Bob Ortiz, a furniture maker, it has made the round of woodworking circles.  Did you know there was a woodworking circle?!  Actually, there is a fantastic community of furniture makers, loggers, collectors and wood enthusiasts out there.  A friend of my daughter was recently in Maine and visited the Thomas Moser Furniture factory, where she took the picture of this plaque (thanks, KJ!).  The song was adopted by Moser and his team in Auburn, Maine — so much so that they carved the words to the song in a gazebo they built on the grounds for their employees.  The plaque is from the gazebo.  Bob, the kids and I had a chance to visit Moser a few years ago and saw it for ourselves.
Besides being carved in wood, the song has been used in a couple of documentaries, published in magazines, in a book for furniture collectors, and used in a variety of other contexts.
We will have another opportunity to highlight the song at a benefit concert we will be doing in November at the Nakashima Studios in New Hope, PA, to raise funds to permit them to build and send a Peace Table to the Desmond Tutu Peace Center in South Africa.  You can click here to learn more about the Nakashima Peace Foundation and the beautiful Peace Tables built to continue a project and vision of furniture maker, George Nakashima, the person who's work inspired Bob to become a furniture maker.  We'll provide more details about the concert soon, so keep checking back.