We have a new album available (digital download only) and a new DVD Video available of Red Devil Moon, the new musical Pam has been working on with playwright, Robert Earl Price.  We worked with Jeff Gruber of Blue House Productions, Inc., to produce a full-length video of our performance in November, 2014, at the Garfield Center for the Performing Arts at the Prince Theatre in Chestertown, MD.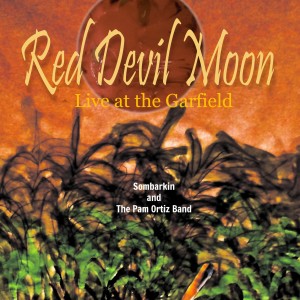 The show featured Sombarkin (Karen Somerville, Jerome McKinney & Lester Barrett Jr.) along with the Pam Ortiz Band (Pam, Bob, Nevin, Ford and Philip) and special guests Tom Anthony (bass) and Ray Anthony (drums).  Narration was provided by Robert Earl Price.
The DVD Video is available as a physical DVD and includes the complete show.
The digital audio album includes the songs, recorded live, but without the narration, with the exception of the very beginning where you can hear Robert Earl launch the show.
It's a great way to remember a very special performance!
You can order the DVD or download the audio album from this website, by selecting Music from the menu or clicking here: http://music.pamortizmusic.com/album/red-devil-moon-live-at-the-garfield.
Here's a sample from the video featuring Jerome McKinney singing Pilgrim Train:
Thanks again to all of you who have supported this very special project.