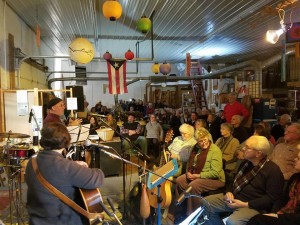 Thanks to all of you for making the first two performances in our Songs for Our Future concert series such a success.  We have been overwhelmed by the response, with standing room only at each of the first two shows.
In January, with your help, we raised $3,400 for the NAACP Legal Defense Fund to support their work to protect the right to vote.
In February, we worked together to raise $2,775 for the National Immigration Law Center to protect immigrants.
Thanks to all of you who participated in some way — to our special guests who joined us on stage, to those of you who joined us for a show, made a donation, volunteered to help out, told a friend, or supported us with your ideas, energy and enthusiasm.  We are proud to stand with you!