See Highlights from Our Performance at the Kenny Award Ceremony
Our friend and videographer, Jeff Weber, put together a nice compilation of the Kenny Award ceremony held on March 22, 2017, at the Garfield Center for the Performing Arts in Chestertown, Maryland which we thought you might enjoy.
Red Devil Moon Receives 2017 Kenny Award
We have such a rich, vibrant arts community in Kent County, Maryland, that we even have our own award — the Kenny.  This year, the creators and performers of Red Devil Moon were honored to receive the 2017 Kenny Award given by the Kent County Arts Council and the Hedgelawn Foundation. The award was presented on March 22 at the Garfield Center for the Performing Arts in Chestertown.  The awards themselves were handcrafted by metal sculptor, Rob Glebe.  Before receiving the awards, we presented a short program highlighting Jean Toomer, Cane and seminal moments from the show.  The Hedgelawn Foundation provided a reception after the awards ceremony.  We are so honored to have received this acknowledgement from our community!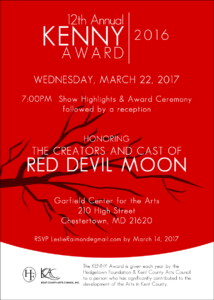 ---
Report on our New York Performances of Red Devil Moon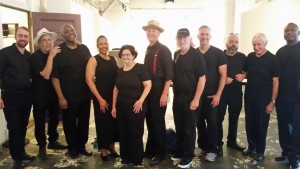 We had a fantastic run performing our concert version of original musical,
Red Devil Moon
, at the New York International Fringe Festival this past August.  We spent 11 days in New York City and did five performances with our collaborators, Sombarkin (Karen Somerville, Lester Barrett, Jerome McKinney), bassist Tom Anthony, drummer, Ray Anthony, stage manager-turned-narrator Michael Wessel, and co-producers Robert Earl Price and Carol Colgate.  Robert Earl Price wrote the book for this musical, inspired by Jean Toomer's 1923 novel,
Cane
.  Pam Ortiz wrote the music and lyrics.  We got a couple of excellent
reviews
, enjoyed the city together, had lots of good food and quite a few adventures. 
Click here to see photos from our New York performances.
Perhaps best of all were how many of you from Maryland and other friends and family who made the trip to New York to see the show.  It meant a great deal to see you in the audience, to have your support, and to experience your enthusiasm and excitement for our troupe of performers from Maryland's Eastern Shore.  We are all deeply grateful for the financial support provided by our community, including the Kent County Arts Council, our non-profit sponsor, the Kent County Commissioners, the Hedgelawn Foundation, and our many other
sponsors and donors
.  We really felt the love in New York and could not have done it without you!
So what's next?  We hope to see Red Devil Moon produced as theater.  We are reaching out to off-Broadway and regional theaters to see if we can find a theater interested in helping us produce the full musical.  We'll be sure to keep you up-to-date!
CHECK OUR SHOW WEBSITE, WWW.REDDEVILMOON.COM, FOR MORE INFORMATION, PHOTOS AND UPDATES ABOUT THE SHOW.
Red Devil Moon at FringeNYC
We have been working hard to get our show ready for the New York International Fringe Festival.  We will do five performances at the Flamboyan Theatre at the Clemente Center, on New York's Lower East Side.
Click to BUY TICKETS.
PERFORMANCE SCHEDULE
FRI 8/12 7:15
SUN 8/14 1:00**
MON 8/15 7:30
THU 8/18 4:30*
SAT 8/20 2:45
*This performance (8/18) will be followed by a FringeHIGH talkback. Audience members are encouraged to stay after the performance.
**There will be an after-show party following this performance (8/14) to which the entire audience is invited at a location to be determined.
For more information see our show website, www.reddevilmoon.com.
____________________________________________________________________________
We're Going to New York!
Red Devil Moon has been accepted to the 2016 New York International Fringe Festival (FringeNYC.org).  The festival takes place during two weeks in various venues in Manhattan, notably the Lower East Side, Soho, the East Village and some in the West Village (Bob's hometown!). We couldn't be more excited!
We will post additional information as soon as we get it, so stay tuned!
Updated: 17 April 2016
---
Here are some photos from our Baltimore performance of Red Devil Moon on May 15,2015.  The performance was part of a special event hosted by the Public Justice Center, to honor long-time activitist, Deb Gardner.  Photos courtesy of Steve Walsh.
---
Here's some information about our May 15, 2015 performance of Red Devil Moon at the Walter's Art Museum.  Don't miss it!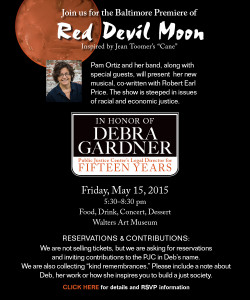 ---
We have two updates for Red Devil Moon fans.
First we are delighted to report that we will reprise our concert performance at the Walters Art Museum in Baltimore on May 15, 2015.  The concert will benefit the Public Justice Center (PJC) and honor the work of Debra Gardner, PJC's legal director.  See the Performance page for details.
Second, Red Devil Moon now has a presence on Facebook, Instagram and Twitter.  Share, post, follow and retweet to let folks know about this project.  This project has been so much fun, mostly because so many of you have been excited about it.  That keeps us all going for a long time.  You can help us keep the project moving forward by letting others know how much you enjoyed it.
Finally, we continue to explore ways to bring a full theatrical production into being.  We promise to keep you up-to-date.
— 2 March 2015
---
We want to thank all of you who came to our premier performance of Red Devil Moon at the Garfield Center for the Performing Arts at the Prince Theatre in Chestertown, Maryland, on November 15 and 16, 2014.  You all packed the house!  We sold out both shows and received standing ovations after each performance.  What a magical event!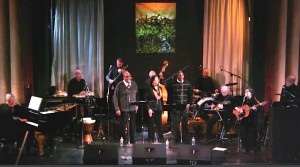 Thanks to those of you who stayed after the performances to give us feedback about the show.  We are taking your insights into consideration.  Robert Earl Price is hard at work on the next version of the script, and we are exploring options for bringing the theatrical production to life.
Look for our Red Devil Moon DVD and Audio Album Coming Soon!
Thanks to our good friend Jeff Gruber at Blue House Productions, we have a wonderful video and audio recording of the show.  We are producing a DVD Video as well as an audio album (digital download only).  The DVD Video will be on sale at the Bookplate in Chestertown.  Both the DVD Video and the digital audio Album will be available from this websiite (Click on Music & Merchandise).  Look for both in early January, 2015.  And thanks again for all your support!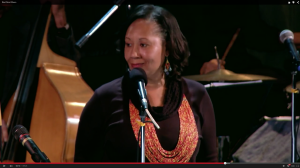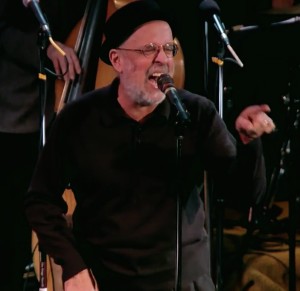 ---
Things are progressing nicely for our Red Devil Moon concert performances on November 15 and 16 at the Garfield Center for the Arts in Chestertown, Maryland.  We've moved our performances to Bob's furniture studio as we have outgrown our little music room at home.  Here's a short clip of rehearsal the other night.  Don't forget to get your tickets!
Click here for tickets to Red Devil Moon.
---
We have a new project in the works we would like to tell you about.  Pam & Bob Ortiz have been collaborating with poet and playwright, Robert Earl Price, on a new musical inspired by the modernist novel, Cane, by Harlem Renaissance writer, Jean Toomer.  Pam has composed and written the lyrics to 16 songs to date, with additional lyrics by Robert Earl Price who is authoring the "book," or the script for the show.
Price's book for the full-length musical is inspired by the novel, Cane, by Jean Toomer, originally published in 1923. Jean Toomer's Cane is widely considered the first major text of the Harlem Renaissance.  The novel has long been an inspiration for playwright Robert Earl Price, who approached Ortiz, after hearing her 2012 album of original tunes, with the idea of collaborating on a new piece of musical theatre.
We recently learned we would need to change the name from the title we were originally working with "Cane."  Yale University owns the literary rights to Toomer's works.  We are delighted to have received their permission to proceed with this production, but do not have permission to call our show by the same title.  So, we have renamed the production Red Devil Moon with the subtitle "Inspired by Jean Toomer's Cane."  We even have a signature tune to go with it!
Red Devil Moon tells the story of events that unfold on the night of the full moon during the sugarcane harvest in South Georgia.  The enveloping scent of boiling cane syrup, the observant creatures of the night, the provocative moon, and conflicted characters conspire to set the backdrop for a love story that is both personal and universal.
This Fall, we are producing a concert performance of Red Devil Moon at the Garfield Center for the Arts at the Prince Theatre in Chestertown, Maryland.  We will be performing many of the songs from the musical, with narration and introductory dialogue. This concert edition of the musical will feature Sombarkin, a gospel trio which includes Karen Somerville, Lester Barrett, Jr. and Jerome McKinney, along with the Pam Ortiz Band — Pam and Bob Ortiz, Nevin Dawson, Philip Dutton and Ford Schumann, with narration by Robert Earl Price.  We are doing two performances on Saturday, November 15, at 8:00 p.m.,  and Sunday, November 16, at 3:00 p.m.  Each performance will be followed by a conversation with the playwright, composer and performers.  We hope you will stay for what we are sure will be an interesting post-performance conversation. 
The project is being produced by Robert Earl Price, Carol Colgate, Pam and Bob Ortiz.  We hope to leverage the concert performance into a full theatrical production some time in the near future.
We have benefited from a lot of community support in envisioning this project.  The forthcoming concert performance is supported by grants from the Kent County Arts Council and the Charles Sumner Post #25 of the Grand Army of the Republic (G.A.R.), and from the generous support of the Garfield Center for the Arts at the Prince Theatre.
Visit this web page for information on the Red Devil Moon project.  You can click on the box below to sign up for regular updates on the project, too.  We have created a special e-mail list for folks interested in following the development of the musical.
Listen to the signature song from the musical, "Red Devil Moon," performed live by the Pam Ortiz Band at Puck in Doylestown, PA, by clicking the arrow below.