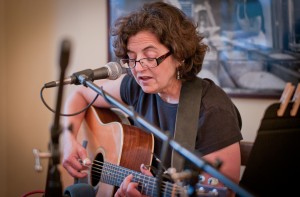 My name is Pamela Cardullo Ortiz and I'm a singer-songwriter.  I live on Maryland's Eastern Shore with my husband, Bob Ortiz (furniture maker and musician and more recently actor) – check out his furniture at Robert Ortiz Studios — and two amazing kids, Sofia and Daniel.
I performed from the late 80's through the late 90's with the band, Terra Nova.  More recently I have performed with Bob and others.  Once in a while, even the kids will agree to play some music with us.
What happened in between?  All of life.  Creativity takes time and attention, like all good work.  I guess it's a life cycle issue, and it seems the circle is turning yet again.  In any event, there are plenty of songs yet to be written, played and sung.
. . .Here's the Terra Nova me. . . .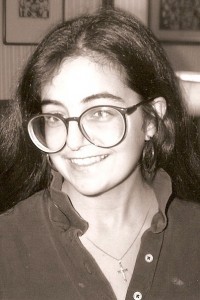 and to see recent pics of Bob and I playing at Against the Grain, check out these cool photos shot by friend and photographer, Coos Hamburger.  Let's hear it for smaller glasses and shorter hair. . . not to mention a few extra wrinkles.  Ah well . . . .: